Feel free to e-mail me
If you have any questions, suggestions or just want to say hello, please do not hesitate to write me! Use my personal e-mail:
mail@dragarta.com
Projects I participate in
Every year I organize a project of Dragon Calendar with fantasy illustrations by Czech and Slovak Artists. Since the calendar for 2019 I publish it in Czech and English and without the Draci.info community involvement.

Dragon Calendar
I run a group for artists interested in trading original ACEO/ATC cards with pictures of various animals. Group is situated on DeviantART and his history dates back to 2006. Since the time we've connected hundreds of artists from all around the world.

ACEOfursXchange

Realized art exhibitions
2016

|

Exhibition hall Frenštát p. R. (joint)
2014

|

Cinema Frýdlant (joint)
2013

|

Library Žabeň (self)
2013

|

Library Řepiště (self)
2012

|

Library Třinec (self)
2012

|

Library Nový Jičín (self)
2012

|

Library Frenštát p. R. (self)
2011

|

Music Club Modrá Vopice (joint)
2010

|

Festival Fantazie (joint)
2009

|

Dragon exhibition in Žižkov (joint)
A few words about the artist
My name is Lucie Kostková and I come from Frenštát, small but beautiful town in the Czech Republic. My biggest hobby has always been drawing and various creative activities, which I present in web galleries since 2005, and since then I also use the nickname "Dragarta". Currently I live and work in Prague with my husband and our four-legged companions Kraken and Indy.
Summary
Name: Lucie Kostková (born Culková)
Date of birth: 8th April 1988
Location: Prague, Czech Republic
Education: High School of Arts and Crafts in Ostrava - Promotional graphics. Charles University in Prague - Art education. Bachelor's degree.
About my life and art
I started with drawing at early childhood just like any other child, but unlike others I never dropped the pencil. Several artistic classes, which I visited during primary school, helped me with improving my creative skills. I wanted to devote my time to art even further, so with a huge support of my parents I applied for an art high school. I succeeded in aptitude tests and spent another four years in Ostrava, studying art in more depth and focusing on promotional graphics. In 2007 I graduated from high school and decided to move closer to my boyfriend and find a work as graphic designer in Prague. However, after a two-year break, I returned to studies and in June 2012 I received a Bachelor degree in art education from Charles University.
While studying art, I tried a lot of different themes and techniques, but when the decision is up to me, I prefer drawing fantasy and animal motifs. Already as a child I liked to create various animals, from horses, dogs, whales and sharks to even dinosaurs. I began to draw dragons when I was 12 years old and I still like them. However, I definitely do not focus only on dragons, but I like to draw any creature from our world or the world of fantasy and mythology.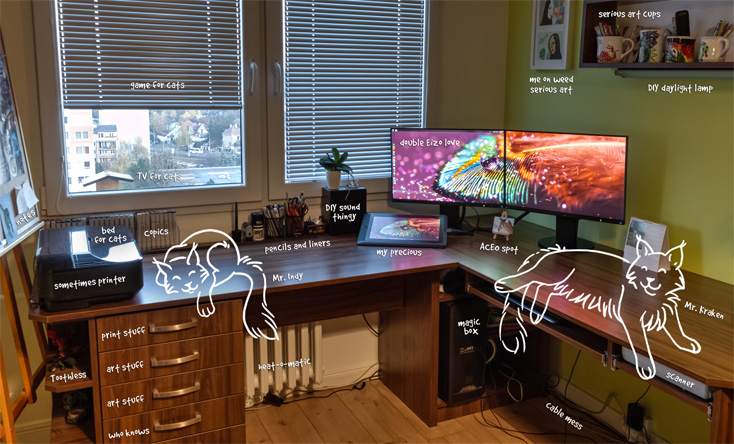 What I am doing now
I am currently freelancing in graphic design and cooperating with digital agency PragueBest. My job is only part-time so I have plenty of time for other creative activities. Therefore, in 2013 I started occasionally freelancing as illustrator. What I offer in the area of drawing can be seen in the Commissions or Shop section, and if you are interested in my graphic services, you can take a look at my graphic portfolio at www.LucieKostkova.cz (only in Czech language).
When not creating, I like to watch a good movie or read a book. My hobbies also include collecting ACEO cards, which are small originals from artists around the world, and I love to collect various art supplies too.
---
Continue to additional information: